1.1 From a school project week to 'Jugend forscht' ('Young researchers')
In the year 1994 a so-called 'Project week' entitled 'Stones alive' took place at our school, the Städt. St.-Michael-Gymnasium at Monschau in the Eifel (on the Belgian-German border). The theme, which had been created with more of a historical intention, created some problems for several students interested in the field of science. Somebody came up with the idea that if stones came alive, then they move and an earthquake can ensue. And how does one make this earthquake tangible? - With a seismograph and so one project team wanted to build such an instrument.
We saw in the (older) literature what a seismograph looks like: So we imagined a seismograph as an instrument that weighs about a ton, is near impossible to move and unwieldy. The literature which was available to us initially was 'The Study of Earthquakes' by H. Jung (1953) and later the standard German work by W. Kertz 'Introduction to Geo-Physics' (1969).
To learn more we rang Professor Dr. Kertz in Braunschweig. He was delighted by our interest in the field of geophysics, but advised us, as he had for some time now been retired to contact his former assistant Professor Dr. H. P. Harjes. - Prof. Dr. Harjes is currently employed as the director of geophysical studies at the Ruhr-University of Bochum, Germany. Prof. Harjes was also interested in our pursuits and wrote to us that despite his knowledge in geophysics he is not an expert in the construction of seismometers. He further wrote that he had spoken to his colleague Professor Dr. Wielandt in Stuttgart who would be glad to help us, being an expert in the field of seismology concerning the construction of seismometers. In addition Prof. Harjes supplied us with important modern literature on the subject.
After a more psychological break we took courage again and phoned Professor Wielandt in Stuttgart. He was thoroughly excited by our intent. After a brief visit to the Seismological observatory of the University of Cologne in Bensberg directed by Prof. Dr. Ahorner an excursion to the Institute for Geophysics at the University of Stuttgart was undertaken by three members of the project team during their summer holidays and prior to the project week. In Stuttgart they received an intensive two-day course in seismology, the construction of seismometers and electronics from Professor Wielandt. And from then on Professor Wielandt remained our 'scientific godfather'.
In Stuttgart we ascertained that nowadays seismographs could easily fit into a jam-jar. Even those instruments, which are specifically designed for the recording of distant earthquakes, are only the size of a small shoebox. Such seismographs are extremely slow swinging, well damped pendulums, (and there are horizontal and vertical pendulums that act as garden-gate pendulums, normal string pendulums or as spring pendulums ...).
The project team received help from many sources; students' parents, former students and alumni, local firms and the institutes of the Technical University RWTH Aachen, as well as the Research Centre in Jülich and additionally the Geological Service of North-Rhine Westfalia in Krefeld helped us with the provision of materials and with the construction of special parts, without which we initially thought we could not proceed.
Professor Wielandt was not to be deterred from attending the beginning of the project week in Monschau, to check that everything was running smoothly and to help out for one day. 'When stones move' was the headline for a week, where 24 people worked together to finally complete the seismograph by the end of the week. It was a matter of some dispute amongst us if the instrument was actually going to work or not. During a visit to Bochum at the conclusion of the project week the whole team was shown how researchers and technicians work hand in hand at a modern geophysical institute by Prof. Harjes and his colleagues.
Back home in Monschau our patience was tested somewhat longer. Finally our seismograph registered earthquake signals from an earthquake in Peru and from a quake in Japan. The efficiency of our school's seismograph in comparison to a professional instrument in the earthquake observatory at the University of Stuttgart is exemplified in the following graph.
Fig.2: Comparison of the recording by our school's seismograph to that of a professional seismograph.
Christian Guelz painstakingly executed this graph at the time (our recordings were then recorded on mm-paper and the scale was removed with the help of a hand-held scanner by Christian).
After the end of the 1994 project week to the name of our project "When stones move" the sentence "and go to the competition 'Jugend forscht' " was added.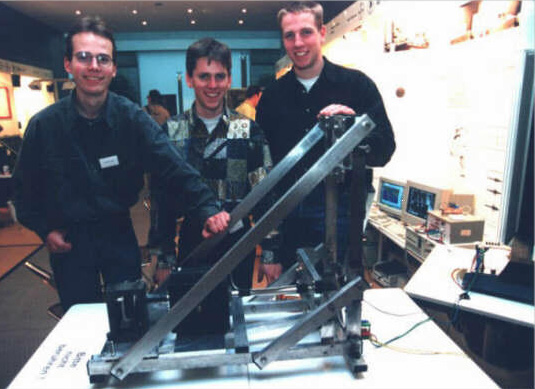 Fig.3: Three proud young scientists and their seismograph. From left to right: Sebastian Schork, Thomas Poschen and Bernd Naeth.
Sebastian Schork, Thomas Poschen and Bernd Naeth built and organised a three-component seismograph station at our school, which possesses a digital remote access. In addition to this they constructed a moveable teaching seismograph, which was conceived to be rebuilt. This will be demonstrated within this article at a later stage.
The three young researchers were state champions in North-Rhine-Westfalia in the field of geo- and space sciences and achieved second place on a national level.